Boresaver is an approved range of specialist treatments for water supply systems contaminated with iron bacteria, iron oxide, manganese oxide and calcium carbonate deposits.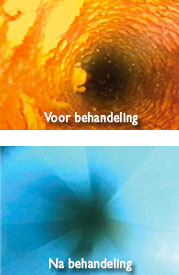 Boresaver treatments can completely remove the deposits that build up and cause blockages in wells, pipes, pumps and any other water related equipment. Developed to achieve maximum flow capacity, the Boresaver range also improves water supply quality and extends the working life of pumping equipment and associated plant.
Safe and easy to use; Boresaver treatments are biodegradable and environmentally friendly. They can be used without dismantling equipment and will not attack or deteriorate any materials inside the system.
Boresaver treatments are approved for use in potable water supplies. Our technical department can give you comprehensive advice on both the rehabilitation and maintenance of water supply systems and how to use the Boresaver treatments.